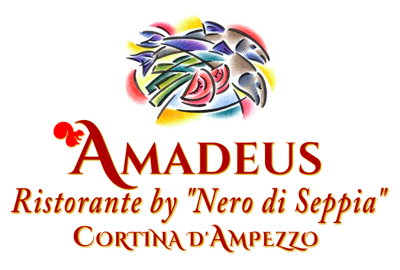 The name "Nero di Seppia" comes from one of the most famous dishes of Venetian cuisine, we bring it to the heart of the Dolomites with our passion and tradition. Sophisticated and authentic cuisine.
Walter and Claudia
Perfect place for your fish based dinner in Cortina d'Ampezzo
The Amadeus Restaurant by "Nero di Seppia" offers the best traditional Venetian fish dishes prepared for you by Claudia and Walter.
You can enjoy Venetian specialties such as cuttlefish in black with polenta, granseola, gransoporro, spaghetti alla busera and many other expertly prepared recipes, respecting the genuineness and freshness of the products used.
The restaurant, furnished with antique wood furniture, pine wood paneling and a view of the Cortina valley, makes the atmosphere of the Dolomites even more enchanting, a perfect setting perfect for romantic dinners and à la carte menus.
The restaurant offers a wide choice of selected wines from the best wineries and personalized menus for adults and children.
Simple and genuine recipes to savor the Venetian cuisine of the past
The philosophy of the Restaurant proposes the traditional recipes of the Venetian cuisine, prepared with the utmost attention to quality and the search for the best materials with the philosophy of keeping the flavors of the sea unchanged.
All combined with the typical Ampezzo hospitality, attentive and warm,  Amadeus Restaurant by "Nero di Seppia" is a welcoming and hospitable place, ideal for your winter and summer dinners.

Siamo stati qui a cena la settimana scorsa, essendo il ristorante aperto anche al pubblico oltre che a chi soggiorna nell'hotel. Cena ottima, ben servita e con un nuovo team in cucina ben preparato. Abbiamo assaggiato molti dei piatti presenti nel menù, alcuni con abbinamenti classici, altri con idee nuove, particolari e buonissime. Se vi piace il buon cibo, il servizio cortese ed i piatti che finalmente eludono dal canederlo in brodo questo è il posto perfetto per una cena da ricordare.

Monica G.